Meet the team
Meet the team at MRI, our greatest asset: Many members of our team have been with us since the beginning.
Although all very different individually, together we bring a wealth of experience to bear in finding solutions to difficult problems.
Mark Collier Snr.
Managing Director
Having worked within this sector since leaving school, Mark has an impressive CV.
Building up MRI from scratch, he knows the value of having a dedicated, trained team around him. There is no substitute for experience – and if Mark does not know the solution – he knows someone who does!
Delegating the day to day running of MRI to trusted members of staff leaves Mark free to do what he does best – planning projects that others say are impossible. A 'hands on' Managing Director, Mark leaves nothing to chance, vital in such a safety crucial industry, ensuring that all our projects run smoothly and on time.
Mark Collier Jnr.
General/Transport Manager
Being a family run business, Mark has taken over the responsibility of the day to day running of the company allowing Mark Snr to concentrate on more complex projects.
Since MRI has acquired an impressive fleet of Lorries, Mark is now managing all aspects of our haulage works, ensuring that all deliveries are made on time – as our customers have come to expect. Working closely with the RHA (Road Haulage Association), Mark has overseen our fleet gaining FORS Silver accreditation.
Mark is also heavily involved in the planning and overseeing of our cranage works ensuring that any logistical problems are overcome – a vital part of any cranage projects, where any delays can often cause additional disruption and expense.
Colin Hicks
Senior Supervisor
Our main representative onsite, Colin has been with MRI from the beginning and is a great asset to our team.
Very much a 'hands on' Supervisor, there is no better person to ensure that our works are completed safely and on time.
A good communicator, Colin will liaise with the clients' representative and overcome any problems that may arise during the execution of our works.
Being an Appointed Person with many years of experience within this field, Colin will ensure that all works run smoothly and safely with as little impact on other trades as possible.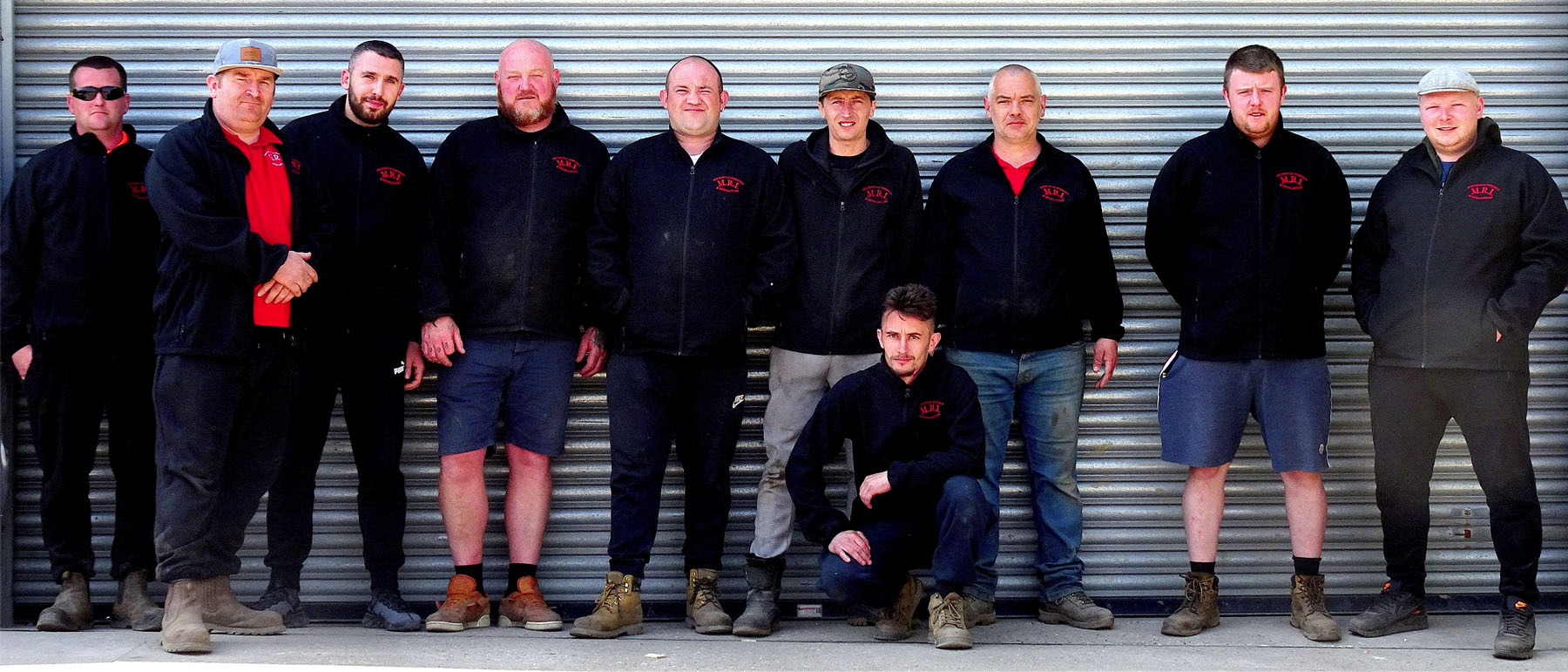 Our onsite team are second to none and MRI are justly proud of the way they conduct themselves.
Always helpful and ready to go the extra mile, these are the men who are ultimately responsible for our customers returning to us for subsequent projects.
Friendly and good humoured, often under the most difficult of circumstances, our team will ensure that all works are completed on time and with no incidents.
One thing is for sure – you will not forget this lot in a hurry!
What people have to say…
Equinix Chiller Replacement
We would like to thank you for the excellent services you have provided to date at our
Equinix LD4 project.
We have been very impressed with your team's attitude, professionalism & efficiency.
The project plant movement and craneage operations have been planned and performed to the
highest quality.
We look forward to a long and prosperous working relationship between our two companies.
T McNulty, Project manager Barclays Data Centre Equinix
Whitelands House, Cheltenham Terrace
Sorry this is a bit late but just a note again of thanks for a job well done at Whitelands House. I'm told your guys left the place swept, clean and tidy and everything was taken away.
Keith
Whitelands House, Cheltenham Terrace
Premier Inn, Hendon
Thank you for a job well done, again, today at Premier Inn Hendon. Professional and efficient as ever.
Premier Inn, Hendon
Stamford Brook
Can I just say a big thank you for the work carried out at Stamford Brook. The guys were great and did the work without any fuss or problems and left the place in pristine condition and both your work it making it happen was very professional and efficient. Thanks again, we'll definitely use you again when required.
Dave
Stamford Brook
Removal of water tanks at Gyron
The works were completed today and the client was happy with how the area was left. I was very impressed by your operatives attitude and professionalism in how they carried out this work, if you could pass on my gratitude for a job well done it would be appreciated. I look forward to using your services in the near future.
Pete
Removal of water tanks at Gyron
Whitelands House, Cheltenham Terrace
Just a note, and I might add a deserved one, of thanks for the work your lads did yesterday at Whitelands House, Chelsea. Efficient and professional are just a couple of words to describe the way the work was done. You can be rightly proud of the way your people represented your company.
Whitelands House, Cheltenham Terrace
Mark and Mike
Well done and can you give the boys a big hug, the builder was more than impressed.
Mark and Mike
Bancroft Ltd
Lifting of Pit Lids at Gyron
Yes, all pit lids required were lifted and frames cleaned and greased. We've taken information from the pits for future work. Many thanks to you and the guys today. Please pass on my thanks and apologies they had to assemble to A frame as needed. Without doubt, you are on the books now and will definitely be in touch should the need arise.
Malc
Lifting of Pit Lids at Gyron
Steve
Just to let you know that the crane works have been completed here in London, 85 Gresham street. All went as planned, there were no incidents or issues. I just like to say well done to Dave B, Dave G, Andy T, and Darren who helped plan and ensure all works where carried out safely. I would also like to say how well MRI preformed. I would recommend them any day. They were professional , always mindful of noise restrictions, and very respectful of the neighbours.
Steve
Willmott Dixon Interiors
Northolt Data Centre, Phase 2 Chiller Crane Lift
Many thanks to you and your team for the forward planning and hard work on the day that ensured today's plant movement operation was completed in a professional and safe manner. Yet another challenging plant movement operation made to look all too easy by MRI..!
Will
Northolt Data Centre, Phase 2 Chiller Crane Lift